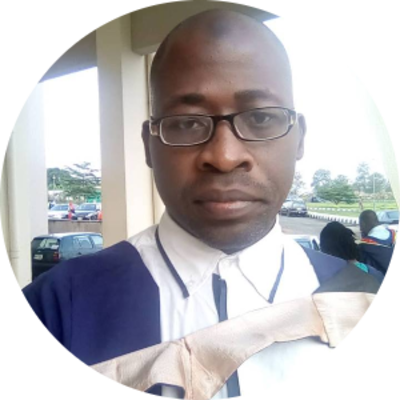 ADEBESIN I.
Jamb English Language Tutor
Home tutor in Ifako-Ijaiye, Lagos
UTME English and Literature Specialist, with a proud track record in helping students acquire quality knowledge and in passing local and foreign exams
I have been teaching English language and Literature for about 14 years, I have immense knowledge of the subjects. I have always shown unwavering commitment towards advancing the knowledge of my learners.
My style of teaching has been eclectic, a blend of an array of methodologies and I always structure my lessons in ways that challenges my students to think critically, communicate effectively, write creatively, investigate thoroughly, work collaboratively, etc. I am a published writer (of prose and poetry).
I create a very positive environment for my students to learn in and I use apt instructional aids and adopt stimulating activities, with relevant materials, to ensure students learn and comprehend well.
Throughout those 14
years of being a teacher (at the secondary level), I have trained/tutored and
presented many students for different kinds of exams (local and foreign exams)
and the success stories have been amazing.
I am proud to be a teacher.
ADEBESIN I. also teaches
About
I am a teacher of English and Literature in English, both of which I have taught excellently for over ten years, at different levels (Primaries 5 & 6; J.S.S 1-3; S.S.S 1-3; Post-secondary & A-Levels). I am a skilled and meticulous instructor for SAT and IELTS. I am also a consultant on matters related to English Language and Literature (in English) teaching.
For me, teaching started as a hobby, sometime in 2002, but it grew to become an unquenchable 'addiction'. I obtained my two degrees (B.A and M.A) in English, from LASU and the University of Ibadan, respectively. I later did a postgraduate diploma in education (PGDE), to professionalize my teaching passion. Undergoing these three programmed exposed me to the culture of rigorous reading and researching. This explains why, in all my years as a teacher, I have always made it a duty for every student of mine to embark on researching, individually and collectively.
Education
BA English and Literary Studies




Mar 2002 - Oct 2008

Lagos State University

M.Eng English and Literary Studies




Feb 2012 - Jun 2016

University of Ibadan

Education And English Language




Jan 2015 - Dec 2015

NATIONAL TEACHERS INSTITUTE (NTI) KADUNA
Experience
(Senior) English Tutor.




Sep 2014 - Jan 2017

IFAKO INTERNATIONAL SECONDARY SCHOOL (IISS)

Class Teacher; Year Tutor; Subject Teacher (English & Lit. in English); Instructor, Foreign Exams (TOEFL & SAT); Head, Literary & Debating Club.

Senior Language Instructor and Academic Consultant




Feb 2010 - Aug 2014

SURE ACADEMY

Senior Language Instructor and Academic Consultant

English Language teacher




Sep 2007 - Jan 2010

FLORA HIGH SCHOOL

Class Teacher; English & Lit. in English teacher; Sports Coordinator; Coordinator, Extra-Curricular Activities; Secretary, Teachers' Welfare Committee; Phonics Teacher; Language Instructor, Teachers' Training Group

Assistant Head Teacher/Senior Literacy Instructor




Feb 2017 - Feb 2019

IMAAD SCHOOLS LEKKI

English Tutor; Assistant Head Teacher; School Coordinator of Cambridge/ Checkpoint Exams; School Coordinator of ISA (International School Awards) projects; Coordinator, Creative Writing Club; Chief Editor of the School's annual Yearbook Publication

Chief Designer




Jan 2003 - Aug 2009

ADBEST FASHION HOUSE

After graduating from secondary school, the prospect of further education for me became bleak, due to lack of sponsorship. So, I decided to enroll at a fashion house, where I got trained for one year as a fashion designer, specializing in embroidery. After the training, I worked under the aegis of some designers who had just started conquering the just booming business of embroidery within my community (Oke-Ira, Ogba). Then, I got enough funds to secure admission to study English at LASU. In the embroidery business, I began winning the hearts of clients with my unique style of embellishing beautiful patterns on fabrics. I juggled the time-consuming business of embroidery and the time-demanding business of study, till I successfully financed myself through a five-turned-seven year part-time study at the Lagos State University (LASU), where I read English, and graduated in 2008 However, in the course of studying at LASU – specifically, sometime in 2003 – I discovered a new passion – teaching – that was to later grow into an unquenchable obsession. Then, enthralled by the feedback from the recipients of my tutorial services, I vowed to pursue a freelance career in teaching. That decision later rubbed off on my designing career so much that, by 2007, I had quit the business of etching varied patterns on fabrics and had settled fully in the business of etching intellectual patterns on learners' minds. Today, I am a profoundly proud teacher with a proud track record of having trained and produced brilliant students, who have either graduated and have started working successfully or still studying across Nigerian universities and beyond.