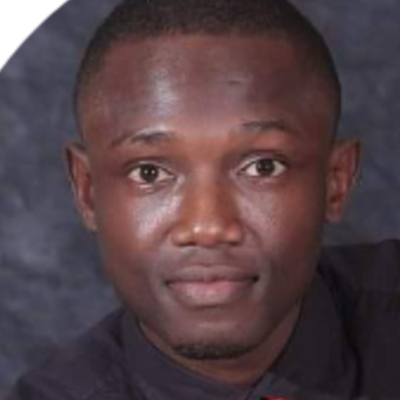 Onasanya T.
Common Entrance Math Tutor
Home tutor in Ojodu berger, Lagos
Common Entrance Math Tutor
With my experience and trainings attended I have been exposed to various methods of teaching and ways of interacting with children. My ability to teach a complex subject in a simple way makes me the ideal tutor that your child need. I have a very strong passion for kids especially those kids that think mathematics is very difficult.In 2010, 2011, 2012 and 2013 all my pupils that sat for the National Common Entrance Examination passed with scores above 150 and the following years were even better than the previous.
My experience and enthusiasm for educating children provides me with the drive and knowledge to significantly impact your child.With my extensive background in mathematics, as well as my teaching in science, Literacy and mathematics you will never regret hiring me.Throughout my academic career, I have honed my communication, creativity, and motivational skills. My commitment to fostering collaborative and exciting educational environments positions me to successfully encourage and develop productive and accomplished students.
Every year I try as much as I can to be better at whatever I do and I always look for better and simpler ways of impacting the required knowledge. Every summer I attend Coding camp where I teach kids and teenagers how to code with python, other programming languages and I also prepare pupils for the new session.I believe that with your support, my resilience and God we can bring out the best in your child.
Onasanya T. also teaches
About
I consider myself to be a dedicated and dependable individual who possess excellent verbal communication and orientation skills. Always ensuring that the standard of duty of care is adhere to. Passionate about the well being of children with the right combination of communication skill, computer knowledge and productive idea to ensure that all my students fully understand the subject.
Education
B.Sc Computer Science




Jul 2006 - Jan 2011

Lagos State University
Experience
COMPUTER AND MATHEMATICS TEACHER




Sep 2017 - Present

HILLSPRINGS INTERNATIONAL SCHOOL

I am employed as the computer/Maths teacher at Hillsprings International School where i teach pupils basic computing skills, general computing and practical classes. I still teach some pupils at home effectively and also prepare some pupils for the National Common Entrance Examination.

Computer and Mathematics




Oct 2013 - Jul 2017

Salvation International school

Organize, maintain and manage class systems in proper working condition. Teach students and learners to use computers. Design and develop appropriate computer instructional material. Manage and monitor student behavior. Initiate and implement systems, procedures and other student management issues. Develop and implement lesson plans and classroom activities in consistent with the student management issues. Conduct group training sessions. Determine and troubleshoot technology services for staff. Coordinate and collaborate with lead teacher, principal and instructional coaches. Integrate special lesson plans with core academic curriculum.

Class Teacher




Sep 2007 - Jul 2013

GREAT FLOWER INTERNATIONAL SCHOOL

At Great Flower International School I was employed as a lower primary mathematics teacher, after three years I started teaching upper primary Quantitative reasoning, Mental Mathematics and Mathematics.I also took charge of the common entrance class where i prepare the pupils for the national common entrance examination.