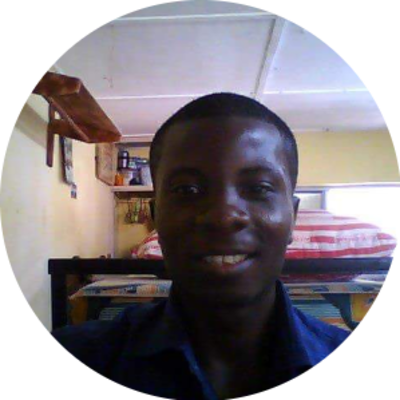 Wisdom L.
WAEC Government Tutor
Home tutor in Mushin, Lagos
About
I am a graduate of Obafemi Awolowo University, I studied Public Administration and graduated with a second Class Upper.
I have taught in seasoned Schools and well meaning tutorials centres in Lagos. I have five years cognate experience as a tutor in Government Civic Education and Economics. I have tutor over 200 students with distinctions in External examination such as WAEC, NECO, and GCE. As well as internal examination. I also have Experience in marking of External examination such as Waec.
Teaching is a gift which has been endowed to a few men like me with burning passion for success of others. My unconventional method of lesson presentation, tutoring and gestures are my major strength as student are motivated and successful.
Education
B.Sc Public Administration and Local Government




Jan 2011 - Sep 2015

Obafemi Awolowo University
Experience
Government and Economics tutor




Sep 2015 - Present

Shining Lords College

To plan and prepare appropriately the assigned courses and lectures To conduct assigned classes at the scheduled times To demonstrate competence in classroom instruction To implement the designated curriculum completely and in due time To plan and implement effective classroom management practices To design and implement effective strategies to develop self-responsible/independent learners promoting students' intrinsic motivation by providing meaningful and progressively challenging learning experiences which include, but are not limited to: self-exploration, questioning, making choices, setting goals, planning and organizing, implementing, self-evaluating and demonstrating initiative in tasks and projects To engage students in active, hands-on, creative problem-based learning To provide opportunities for students to access and use current technology, resources and information to solve problems To provides opportunities for students to apply and practice what is learned To engage students in creative thinking and integrated or interdisciplinary learning experiences To build students' ability to work collaboratively with others To adapt instruction/support to students' differences in development, learning styles, strengths and needs To vary instructional roles (e.g. instructor, coach, facilitator, co-learner, audience) in relation to content and purpose of instruction and students' needs To maintain a safe, orderly environment conducive to learning To comply with requirements for the safety and supervision of students inside and outside the classroom To define and communicate learning expectations to students To apply appropriate multiple assessment tools and strategies to evaluate and promote the continuous intellectual development of the students To assign reasonable assignments and homework to students as per school rules To evaluate students' performances in an objective, fair and timely manner To record and report timely the results of quizzes, assignments, mid- and Termly exams To use student assessment data to guide changes in instruction and practice, and to improve student learning

Government Teacher




Sep 2017 - Present

Shining Lord's College

To plan and prepare appropriately the assigned courses and lectures To conduct assigned classes at the scheduled times To demonstrate competence in classroom instruction To implement the designated curriculum completely and in due time To plan and implement effective classroom management practices To design and implement effective strategies to develop self-responsible/independent learners To promote students' intrinsic motivation by providing meaningful and progressively challenging learning experiences which include, but are not limited to: self-exploration, questioning, making choices, setting goals, planning and organizing, implementing, self-evaluating and demonstrating initiative in tasks and projects To engage students in active, hands-on, creative problem-based learning To provide opportunities for students to access and use current technology, resources and information to solve problems To provides opportunities for students to apply and practice what is learned To engage students in creative thinking and integrated or interdisciplinary learning experiences To build students' ability to work collaboratively with others To adapt instruction/support to students' differences in development, learning styles, strengths and needs To vary instructional roles (e.g. instructor, coach, facilitator, co-learner, audience) in relation to content and purpose of instruction and students' needs To maintain a safe, orderly environment conducive to learning To comply with requirements for the safety and supervision of students inside and outside the classroom Assessment To define and communicate learning expectations to students To apply appropriate multiple assessment tools and strategies to evaluate and promote the continuous intellectual development of the students To assign reasonable assignments and homework to students as per school rules To evaluate students' performances in an objective, fair and timely manner To record and report timely the results of quizzes, assignments, mid- and termly results To use student assessment data to guide changes in instruction and practice, and to improve student learning

Economics and Government Tutor




Sep 2017 - Aug 2019

Brilliant Tutorial Centre

To plan and prepare appropriately the assigned courses and lectures To conduct assigned classes at the scheduled times To demonstrate competence in classroom instruction To engage students in active, hands-on, creative problem-based learning To provide opportunities for students to access and use current technology, resources and information to solve problems To provides opportunities for students to apply and practice what is learned To engage students in creative thinking and integrated or interdisciplinary learning experiences To build students' ability to work collaboratively with others To adapt instruction/support to students' differences in development, learning styles, strengths and needs To maintain a safe, orderly environment conducive to learning To comply with requirements for the safety and supervision of students inside and outside the classrooms To define and communicate learning expectations to students To apply appropriate multiple assessment tools and strategies to evaluate and promote the continuous intellectual development of the students To assign reasonable assignments and homework to students To evaluate students' performances in an objective, fair and timely manner To use student assessment data to guide changes in instruction and practice, and to improve student learning

Government and Economics Tutor




Sep 2017 - Sep 2019

Brilliant Tutorial Centre

To plan and prepare appropriately the assigned courses and lectures To conduct assigned classes at the scheduled times To demonstrate competence in classroom instruction To implement the designated curriculum completely and in due time To engage students in active, hands-on, creative problem-based learning To provide opportunities for students to access and use current technology, resources and information to solve problems To provides opportunities for students to apply and practice what is learned To engage students in creative thinking and integrated or interdisciplinary learning experiences To maintain a safe, orderly environment conducive to learning To comply with requirements for the safety and supervision of students inside and outside the classroom Assessment To define and communicate learning expectations to students To apply appropriate multiple assessment tools and strategies to evaluate and promote the continuous intellectual development of the students To assign reasonable assignments and homework to students To record and report timely the results of quizzes, assignments, mid- and termly Examination