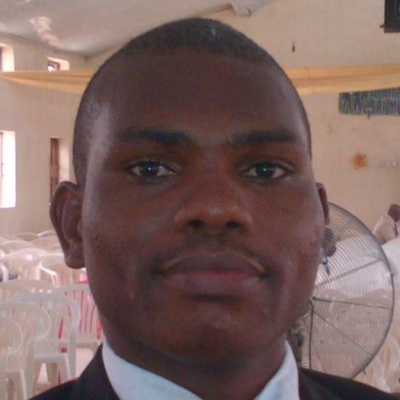 Akinbami E.
Junior Secondary Math Tutor
Home tutor in Surulere Lagos State, Lagos
I am a secondary math tutor with more than 12 years of experience and A's for more than 92% of ex-students. My critical thinking approach coupled enthusiasm and excitement about math helps students to dump 'cram for the test' approach and consciously use conceptual skill approach for solving math problems. It is also a part of our job to help students figure out the most important things to remember.
For each student, I ensure that the challenged parts of mathematics are identified and thoroughly explained using critical thinking approach. I had series of sections with students on mathematics with outstanding feedback. I Plan and implement daily and unit lesson plans for students, evaluate and analyze students' performances, give appropriate feedback and maintained records of students' progress and develop strategies to foster students critical thinking skills.
Ultimately, teaching math, to me, is a collaborative effort where the student and the teacher practically ensured objectives of each topic are strategically achieved.
Akinbami E. also teaches
About
I am a tutor with more than 12 years experience preparing students for both WASSCE and IGCSE. I had postgraduate diploma in education PGDE and B.tech in Chemical Engineering. Endowed with excellent numeartionn and technical skills, my initial engineering background gives me edge in Science Technology, Engineering and Mathematics (STEM) teaching including Technical drawing and Physics
Education
B.Tech Chemical Engineering




Dec 2006 - Dec 2010

Ladoke Akintola University of Technology

Education




Jan 2016 - Dec 2016

Open university
Experience
Physics and Technology Teacher




Sep 2017 - Mar 2019

Evaron High School

 Plan and implement daily and unit lesson plans for students  Plan and implement co-curricular activities (outdoor games) based on the school calendar  Prepare and deliver unit lesson plans on Basic Technology and Physics  Administer class test and examinations  Evaluate and analyse students' performance  Give appropriate feedback and maintained records of students' progress  Develop strategies to foster students workshop skills

Mathematics and Technology Teacher




Oct 2012 - Dec 2014

Lighthouse International School

 Planned and implemented daily and unit lesson plans for IGCSE students  Planned and implemented daily and unit lesson plans for WASSCE students  Coordinated IGCSE registration  Planned and implemented co-curricular activities based on the school calendar  Prepared and delivered unit lesson plans on Mathematics and Technical Drawing  Prepared and delivered unit lesson plans on Basic Technology  Administered class test and examinations  Evaluated and analysed students' performance  Gave appropriate feedback and maintained records of students' progress  Developed strategies to foster students' performance in WASSCE

Vice Principal/Subject Teacher




Jan 2015 - Jul 2017

Dampres High School

 Prepared and delivered unit lesson plans on Mathematics  Prepared and delivered unit lesson plans on Basic technology  Administered class test and evaluations, and analyzed students' performance  Developed strategies to fostered students performance in WASSCE  Evaluated and analysed students' performance  Liaised with Local Education District (LED) on scheme and curriculum  Prepared and ensured time table compliance.  Ensured presentation of examination questions and mark scheme  Designed remedial plans for individual with special challenge  Coordinated and reinforced concept and skill development in JETS club  Prepared and endorsed students' reports  Ensured curriculum compliance  Supervised continuous improvement program  Coordinated inter-house sport planning committee

Mathematics Teacher




Jul 2011 - Jun 2012

Government Girls College

 Prepared and delivered unit plan lessons to SS2 and SS3 students  Administered class test and evaluations, and analyzed students' performance  Prepared students for WASSCE  Administered class test and examinations  Evaluated and analysed students' performance  Coordinated and reinforced concept and skill development in JETS club

Class Teacher




Jul 2003 - Dec 2006

Brown Memorial School

 Tutored and mentored basic 5 & 6 pupils  Planned and delivered lesson plans to pupils  Marked class registered  Prepared pupils for National and State Common Entrance Examinations  Coordinated sport and academic competition