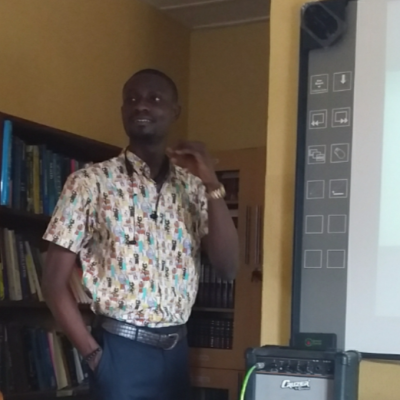 dare o.
Common Entrance Math Tutor
Home tutor in Alimosho, Lagos
Common Entrance Math Tutor with 10 years Experience and 75% straight A's ex-students
Basically, I helped my students to solve Mathematical problems, develop study skills and techniques to improve their academic performance. Having students whose performance in Mathematics was below average, I realized I have to go the extra-mile because the numbers outweighed those above average in the class. Failure to do that might make the mess of the entire performance in the Common Entrance Examination results. I set up a period Six timetable (I.e. after school) in which one-hour was incurred in examining critical areas of the subject, particularly Mathematics and Elementary Science discipline.
At the end of the day, those in D's were able to move to B and C which was quite pleasing to the school Even though we had few E's but not significant enough, I exposed my students to new ways of understanding Mathematics and other Elementary Science subjects
My greatest achievements in the past can be discussed in the following areas;
(A) Successful presentation of students for Common Entrance Examination in which 75% came out with A's in Mathematics
(B) Ability to initiate Elementary Science spelling competition to enhance students knowledge of gray areas in the subject.
(C) Exposure to a new way of teaching Mathematics In a manner that enabled to challenge students to learn at their own pace and still produce desirable results.
I see teaching not just as a profession but a mission, a call to service in polishing humanity towards a positive direction in life. In the same vein, children who are like clay are molded and shaped by the hands of a teacher, and it is a joy getting the best out of them.
About
I graduated from Federal University of Technology, Akure, Ondo State with Bachelor of Technology in Applied Geophysics.
My work experience as a private tutor have spanned a cumulative period of four years within and outside Lagos basically in the teaching of Mathematics, Physics, Chemistry, Geography and other science subjects at different levels of our education system.I have attended different seminar/workshop to abreast my teaching skill and potential, part of which are Macmillan Workshop for Secondary School teacher, IGCSE training for Mathematics in view.
I am working presently with Royal Kriston College as tutor in Mathematics
I welcome the opportunity to meet with you to exhibit the pedagogue value that I can add to your firm, and polishing my students towards a positive direction in life.
Education
B.Sc Geophysics




Nov 2012 - Mar 2018

Federal University of Technology, Akure
Experience
Mathematics tutor




Jul 2018 - Present

Royal Group of school

My greatest achievement can be discussed in the following areas; (a) Successful preparation of students for Cowbell Mathematics competition (b) Successful Presentation of Students for WASSCE 2018 in which 85% of the candidates recorded distinction. (c) Ability to intiate Geo-spelling bee competition to enhance students knowledge of grey areas in the subject (d) exposure to new ways of teaching in a manner that enables challenged students to learn at their own space and still produce desirable outcome.

Physics/Chemistry




May 2017 - Jul 2018

Emmanuel Comprehensive College

My greatest achievement can be discussed in the following areas; (a) Successful preparation of students for Pz Cusson Chemistry Challenge (b) Successful Presentation of Students for WASSCE 2017 in which many candidates recorded distinction. (c) exposure to new ways of teaching in a manner that enables challenged students to learn at their own space and still produce desirable outcome. (d) Initiated the Jet club exhibition day for Science students to showcase their innovations