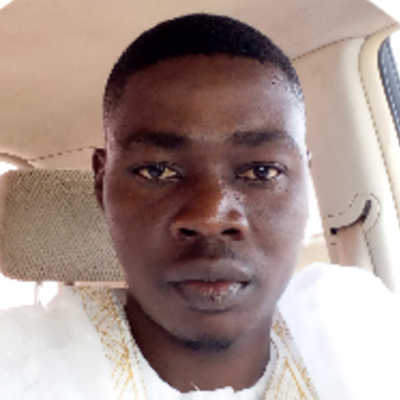 OLUMUYIWA O.
Senior Secondary School English Tutor
Home tutor in Osogbo, Osun
About
I am a diligent, conscientious, motivated, brilliant, prospective and responsible graduate of Geography from Obafemi Awolowo University, Ile-Ife. In a quest to attain professional feat, I have a Professional Diploma degree in Education (PDE) and a Master of Science degree in geography from the Nigerian Defence Academy, Kaduna where I currently reside.
I have 6 years of working as an educationist to my credit and I've tutored over forty students to write various exams such as JAMB, IJMB, JUPEB, SSCE amongst others. I am familiar with the curriculum and the expectations of school board and the public.
My teaching philosophy is very simple "students do not care how much you know, until they know how much you care". Hence, I deploy Learners-centered approach in carefully imparting my students and the results over the years have been quite outstanding.
I have outstanding research abilities and unrivalled skills used to collect and analyze data to help determine the educational needs of students and to develop training programs for tutors that are more effective and efficient.
Excellent communication skills, problem solving, time management, organizational and interpersonal skills have been my brawn for working in a stressful and high demanding environment and I have the ability to remain calm, friendly and professional at all times.
Education
B.Sc Geography




Feb 2008 - Jul 2013

Obafemi Awolowo University

Education




Sep 2015 - Nov 2016

Teachers Registration Council of Nigeria

M.Sc Geography and Environmental Management




Apr 2016 - Sep 2018

Nigerian Defence Academy, Kaduna
Experience
class teacher




Sep 2013 - Oct 2014

ECWA Nursery and Primary School

My first teaching job was at ECWA Nursery and Primary School and I taught primary 4 and 5 mathematics, English and Social studies between the year 2013 to 2014 in order to prepare them for college years ahead. Also, I was the sports master while i was there where i organized the year's inter-house competition. In addition I organized the young farmers club where the pupils' interested in farming was stimulated and cultured. I began here as reading interventionists with the Fast Forward program helping below grade level readers improve their reading skills.

Class Teacher/ Desk Officer




Jun 2014 - Jan 2019

Government Secondary School, Kabusa

As a concerned and professionally trained teacher, I worked in a small community school called Government Secondary School, Kabusa in FCT area of Abuja and I took it upon myself to teach the students mathematics, Geography and Civic Education at the senior classes. sometime, i gave a Math test to the students in SSS 2. The results show that half the class did not pass the test. Of the children who passed the test, most of them were in borderline category. I was very upset but I was determined to see to it that the children learn. I wanted to discuss the performance of each student, especially those students who did not get good marks (in this case almost the entire class) individually but this would have taken a lot of time which was not possible to devote given the weekly syllabus that was to be covered. So I announced in the class "I want each one of you to write how you think you did in the test? – Good, Average, Poor, Very poor. Write down your rating for performance and give a reason why you performed so" Though, it was an additional work to go through all the write ups, but as a trained teacher, I somehow managed to do so. Children provided reasons such as "occupancy in a relative's marriage", "ill health", "perceived difficulty of the subject", "absenteeism from the class" and various other reasons for their performance. I took up the issue in small groups and individually with some children where I felt a valid reason was not given or no reason was given at all in the write up. I discussed the cases of children in the class. Children are generally a very reliable source of information about their peers. For few very bad cases, I discussed the issue with other fellow teachers. I then took up the matter with parents whenever I had a chance to interact with them at various occasions. In the class I made study buddies by forming groups of better performing and poor performing children so as to ensure peer learning. As most of the children were second generation learners with no or poor literacy support from parents and neighbours, I identified some senior students in the school to help (to whatever extent) the poor performing children residing near their houses. Then came the day of the next test! There is a chance that there might be an improvement in the performance of some children. With sustained efforts and planned strategies, the chances of better performance are even higher! I could not do this for all the classes I took. I discussed my strategy with other fellow teachers, some of whom did encourage and use the same strategy for their subjects. Later on the staff brought this up at a meeting with the principal and the school started a system of recognizing and acknowledging "the best study buddies"; "the best and most cooperative senior/senior group", "the most cooperative and receptive parent" at the end of every term