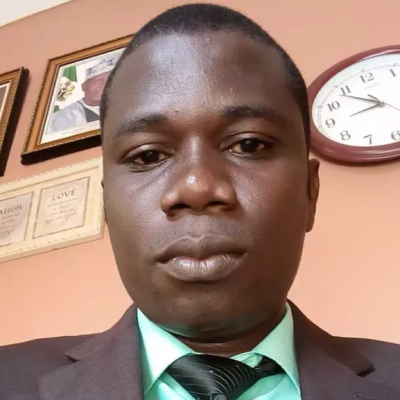 Olaniyi A.
Senior Secondary School English Tutor
Home tutor in Nyanya, Abuja
Senior English Tutor of repute
My mastery of Systemic Functional Grammar (SFG), the latest brand of English, has helped me, in no small measure, to put smiles on the faces of many students for the past 8 years, that I have devoted myself to the teaching of English language in both Junior and secondary schools.
Students, from what I have gathered, only focus the Traditional Grammar (TG), a brand of the language that has gone extinct. Because of this, you see them commit grammatical blunders that would have been avoided if they had learnt the rudiments of SFG. Unfortunately, teachers of English still teach the already extinct Traditional Grammar and students are at the receiving end.
Your child too can be successful but we have to act fast. It is going to be interesting, but challenging, and before you know it, your child will master the Use of English in no distant time. Let's make it happen today. Just a call, I'll be right there for your child.
Olaniyi A. also teaches
About
1. English, as a subject, may look difficult for ESL learners but very simple to master. If it is not fully understood, a not so academically sound adult will emerge. So, it is necessary to look for an experienced, patient, and illustrative tutor who would make learning illustrative and enjoyable by the student. Having taught this subject for 8 years at both primary and secondary schools, I'm sure I'm more than qualify to deliver.
2. Not only have I taught English language for 8 years, I have also achieved amazing results with my students. Desmond, one of my students, now has amazing interest in English language, the subject he had hated with passion. After just two weeks of teaching, he went ahead to score an A in his junior WAEC.
3. I do build a very cordial relationship with my students in order to turn them to my friends. This makes me approachable to them and they'll feel free to ask me questions. I use illustrations to aid learning process and the results have remained amazing.
4. I try to build a child's confidence and mastery of topics in line with curriculum of interest. I explore each topic thoroughly and from there, we tackle series of questions together. Also, we do a weekly review of what was taught so that my students can learn at a jet's speed.
5. In addition to teaching, I try as much as possible to inspire your kids for academic excellence.That's why you should hire me.
Education
BA Mass Communication




Jan 2012 - Jul 2016

Adekunle Ajasin University

ND Mass Communication




Feb 2006 - Aug 2008

RUGIPO
Experience
English Instructor




Feb 2017 - Dec 2017

Covenant Secondary School

I taught students the rudiments of Systemic Functional English, the latest brand of English grammar. I gave out assignments, marked the assignments, and proffered solutions to the questions. Also, I graded the students based on the assessment provided by the school.

English and Government Instructor




Jan 2018 - Mar 2019

Zenith Academy

I taught students grammar and its functional use in everyday interactions. I also taught the various branches of the language, as well as English structure. I set exams, marked them, and graded the students accordingly. In the area of government, I taught the students the various concepts of the language as well as their features and functions.

Use of English Tutor




Jul 2016 - Dec 2016

St. Catherine College

At this school, I taught students the rudiments of English language. I assessed my students and ensure that they understand the subject more accurately.