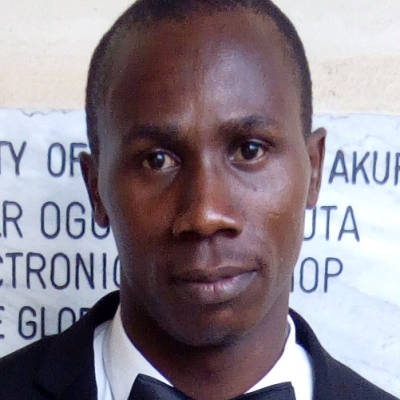 MOSES I.
Senior Secondary School Further Mathematics Tutor
Home tutor in Olorunda, Osun
About
I am a graduate of Electrical /Electronic Engineering(B.ENG with a First Class honours from the Federal University of Technology, Akure, Ondo State.I also hold a National Diploma (ND with distinction) from The Federal Polytechnic, Ado-Ekiti, Ekiti State. I have 10 years of productive teaching experience and have worked as a Full-Time, Part-Time teacher in various colleges/high schools and also as a private tutor in the areas of Mathematics, Physics, Chemistry, and Further mathematics. By God's grace, I have been able to successfully tutor over 100 students to pass various school exams, national exams(NECO, UTME, NABTEB) and international exams(WASSCE, GCE), most of which are studying various courses in various tertiary institutions. I also major in tutoring undergraduate level students in mathematics and Elect/Elect Engineering related courses. Furthermore, I wish to emphasize that I have the traits of a "Born Teacher" in that I started the teaching profession immediately after the completion of my secondary education(2009). I have also attended several seminars and workshops to acquire certain teaching skills. In addition, by God's grace, I possess the ability to teach effectively without much dependence on textbooks and my teaching methods are very illustrative, dramatic and practically-oriented. Moreover, it should be noted that my interest in the teaching/tutoring profession is bornout of my divine mandate to mentor and teach the younger generations to imbibe the culture of hardwork, diligence, doggedness,grit and most importantly THE FEAR OF THE LORD in the pursuit of their future endeavours without cutting corners. Finally, my rare skills of imparting knowledge(academic and moral) remains my major strength as my students by God's grace remain highly motivated and successful even after my reign as their tutor.
Education
B.ENG Electrical / Electronic Engineering




Dec 2014 - Oct 2018

Federal University of Technology, Akure

ND Electrical / Electronic Engineering




Dec 2010 - Nov 2012

Federal Polytechnic Ado Ekiti
Experience
PART-TIME MATHS TEACHER




Oct 2018 - Oct 2018

PALM ROCK INTERNATIONAL COLLEGE

I teaches SSS1-3 students mathematics on the basis of thrice a week

PART-TIME CHEMISTRY TEACHER




Jun 2017 - Jul 2017

ECWA GROUPS OF SCHOOLS

chemistry teacher for SSS1-2

TUTOR FOR PHYSICS, MATHS AND CHEMISTRY




Nov 2017 - Dec 2017

ALL-MARKS ACADEMY

Tutoring UTME students in physics, chemistry and mathematics

FULL-TIME(AND LATER PART-TIME) PHYSICS, MATHS, BASIC TECHNOLOGY AND CHEMISTRY TEACHER




Jan 2016 - Dec 2017

DIMEJI PREMIER COLLEGE

Teaching of JSS1-3 basic technology, SSS2-3 physics, SSS3 maths, UTME CBT training in physics, chemistry and mathematics for SSS3 students.

CLASS TEACHER




Jun 2009 - Dec 2014

SOLID FOUNDATION INTERNATIONAL COLLEGE

Teaching of SSS1-3 mathematics, physics and chemistry, handling of physics and chemistry practicals

SERVING NATIONAL YOUTH SERVICE CORPS MEMBER(NYSC)




May 2019 - Present

NATIONAL CONTROL CENTRE(NCC)/TRANSMISSION COMPANY OF NIGERIA(TCN)

Firstly posted to Transition Electricity Marketing(TEM) department where I was engaged in preparation of Daily Disco Load Analysis(DDLA), Daily Load Nomination(DLN) and Daily Load Rejection Tracking(DLRT) reports. Later transferred to the 330kV National Grid Control Room(TEM DESK) where I was engaged in the National Grid monitoring via Dispatch tool, load allocation/shedding, phone call, Feeders tripping monitoring and report collation etc. I am recently working in the Internal Audit department as a Special Assistant to the Auditor.

STUDENTS INDUSTRIAL WORK EXPERIENCE SCHEME/INDUSTRIAL TRAINING




Jul 2017 - Nov 2017

PIUSPENTAGON ELEKTRONICAL LIMITED, AKURE, ONDO STATE

Design and construction of Electrical Power Inverter Systems, Installation of Solar panels, Renewable Energy Related Research, General Electrical/Electronics Devices maintenance and repair, Electrical Installation

TWO-MONTHS STUDENTS WORK EXPERIENCE PROGRAMME-SWEP




Jul 2016 - Aug 2016

CENTRE FOR RENEWABLE ENERGY TECHNOLOGY-CRET, FEDERAL UNIVERSITY OF TECHNOLOGY, AKURE, ONDO STATE.

Installation of Solar PhotoVoltaic( PV) Systems, Design and Construction of Energy-Efficient Buildings/Solar Kiosks, Conduction of Energy Audits, Electrical Installation

ONE-YEAR POST NATIONAL DIPLOMA(ND) INDUSTRIAL TRAINING(IT)




Jan 2013 - Dec 2013

EKITI SOUTH WEST LOCAL GOVERNMENT(ELECTRICAL SECTION/WORKS DEPARTMENT), ILAWE-EKITI, EKITI STATE.

Rural Electrification/ Street Lighting, Installation of Electrical Power Transformers, Industrial Generator/Plant maintenance, Electrical Installation, Electrical Fault Tracing.