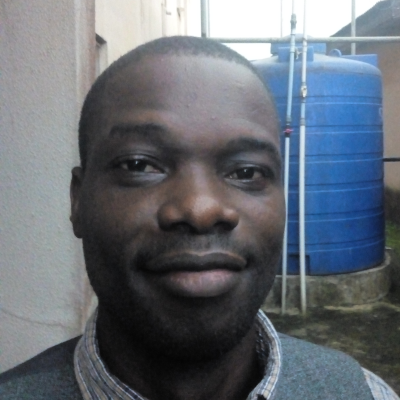 Gideon B.
Upper Primary Math Tutor
Home tutor in Oshodi-Isolo, Lagos
Upper Primary Math Tutor
I welcome my students with warm smiles after which I ask if they are finding math or any aspect of it hard or difficult to comprehend. That is the point where my teaching kicks off.
I make the learner's most current math problem look very simple to solve. We then dig further into the topic. Now, the learner is willing to know more so I will come in with more problems for him/her to solve. Any topic that is related to the current topic may as well be introduced. I also teach from simple to complex.
My past and present math students have won series and yearly awards in math competitions such as MAN, TUMA, Kangaroo, AMC to mention a few. My students get fulfilled each year and that has been my greatest feat.
​​​​​
Gideon B. also teaches
About
I am a seasoned teacher with impeccable character, skilled & award winner of Mathematics competitions examinations & proficient at English Language Arts, best teacher award most creative teacher award.
I am trained to train, raise and make become champions in academics, morals & God's knowledge.
Mathematics is my core field but that isn't all every child needs especially those that will bridge the concept of academics and morals. So with this need after my first degree, I made it to PGD in education. Currently, I handle Professor Atayero's first African-Russian son at home. Professor Atayero is the current Vice Chancellor of Covenant University, Ota.
I have lots of success to my credits. I once prepared students who made it to Cowbellpedia TV show at home. Most of my students have won TUMA cash prizes over the years and currently.
Education
B.Sc Finance




Jan 2003 - Dec 2007

Ekiti State University, Ado Ekiti

Education & Mathematics




Jan 2013 - Dec 2013

NATIONAL TEACHERS INSTITUTE (NTI) KADUNA

Communication and Language Arts and English




Jan 2014 - Dec 2014

Corona College of Education
Experience
Mathematics & Common Entrance teacher




Jan 2008 - Jul 2010

Home Science Association School

While I was in Home Science, I was in charge Mathematics competitions and some aspects of creativities.

Mathematics Competition teacher




Jun 2014 - Apr 2019

The Ambassadors Schools, Ota

Also, while I was here I was in charge of various Mathematics competitions. I was the most creative writer & artistic designer.

Mathematics Competition Specialist




Jun 2015 - Apr 2019

The Ambassadors Schools, Ota

I am Gideon. I discovered and trained students through tests on basics before approving anyone for math competition classes across spheres. Professor Atayero, the current Vice Chancellor of The Covenant University's son is just one the successful students I personally tutored at home. I took students across innumerable past questions, each class could last for three hours or more. I have structured out a personally researched topics across math syllabus worldwide. So I import so many topics that are far away from Nigerian syllabus. This has really grown my students into full fledged mathematicians.

Mathematics Specialist




Sep 2012 - May 2015

Berkley Science Magnet School

The school runs a full American syllabus. I was in charge of the critical thinking class, math mental sums, math games and the school's math competition examinations. In critical thinking class, a scenario is created with an illustrated diagram. Each student is made to unravel the mysteries behind. Clues are provided in extremely difficult ones. This propels learning and triggers readiness to tackle more critical questions. Worksheets are provided for each group the students are classified. Now the competition begins. They have been explored and simultaneously left to explore. Some are actually not picking fast enough, then we regroup those ones and explain to them softly over and over again. Those ones will go home with extra tasks. Its been success all year round.

Class Teacher




Sep 2010 - Jun 2012

Good Shepherd Schools

My major role was to teach and over see the class. I report all correspondence to school head. I taught mathematics around the upper primary classes especially the common entrance class.