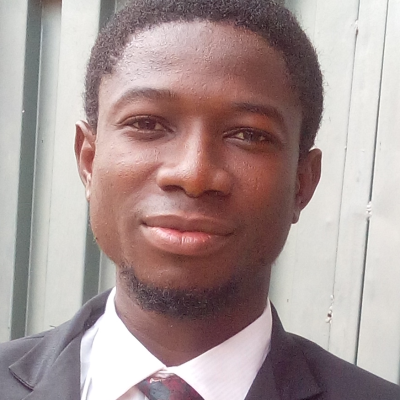 Olalekan A.
WAEC Government Tutor
Home tutor in Gwaywalada, Abuja
WAEC Government Tutor with 8 years Experience and 51 Straight A's ex-students.
I having been teaching O'level government for the past 8 years. I have taught the subject in different settings and arrangement. I have taught in formal classrooms as a tutor likewise have I taught the subject in an informal settings as a home lesson teacher for the past 8 years. I believe that I am the best tutor for the subject and my experience and expertise in the field qualifies me for a national award.
I find joy and pleasure in imparting the knowledge of government especially among the youths who have wrong notion or perspective about governance and government. I do not only teach government as a subject but I also teach its practice and application of its ethos as taught by the great scholars such as Aristotle.
Some of my students comment about my teaching skills and method of passing the knowledge across as thus: "You are gifted", "You must become a lecturer", "I want to learn to teach like you." "You are genius" to mention but few. What I personally appreciate about myself when it comes to teaching of government is the manifestation of my will to positively impart in youths and to correct the wrong perception imparted in us by our teachers of those days. I.e that: "We are leaders of tomorrow". I do tell my students: you are leaders of today because tomorrow may never come.
Olalekan A. also teaches
About
I am a qulified legal practitioner.
I am a graduate of Law from the University of Ilorin.
I attended the Augustine Nnamani Campus of Nigerian Law School, Agbani, Enugu State.
I have 7 years of productive experience working as a prive tutor and part-time teacher in the areas of English Language, Literature, Government and Islamic Studies.
I had my teaching experience in Ilorin, Kwara state where I successfully imparted in over 200 students some of which are already grudates from various higher insitutions in Nigeria and abroad.
I am also excellent at teaching law courses such as Business Law, Law of Tort, Nigerian Legal System, Constitutional Law and a hoist of others.
I currently resides in Abuja.
My rare skills of imparting knowledge remains my major strenth as my students and colleagues remain highly motivated and succeful even after the period of my tutorship.
Education
Augustine Nnamani Campus.




Oct 2017 - Aug 2018

Nigerian Law School

LLB Law




Oct 2013 - Sep 2017

University of Ilorin
Experience
Tutor




May 2012 - Sep 2017

Supreme Success Educational Consult

As a tutor at Supreme Success Educational Consult, I taught O'level subjects such as English Language, Government, Literature in English and Islamic Studies. I also taught A'level subjects such as POS 101, POS 102, Lit 1, 2, 3, and IRS 1, 2, 3. The Educational Institution prepare both O'level and A'level Students for exams. I taught at the institution for 6 years and anytime I am in Ilorin, I do help them in taking the above mentioned subjects. Not only do I teach these subjects in Supreme Success Educational Consult but also imbibe moral teachings in the students and help the students in creating career path through counselling, advise and help them secure admission into their various Institutions of choice. I see to the admission of over 60 students while I was a tutor at Supreme Success Educational Consult.

Tutor




May 2013 - Sep 2017

Winners Advanced Academy

As a part-time tutor at Winners Advanced Academy, I taught O'level subjects such as English Language, Government, Literature in English and Islamic Studies. I also taught A'level subjects such as POS 101, POS 102, Lit 1, 2, 3, and IRS 1, 2, 3. The Educational Institution prepare both O'level and A'level Students for exams. I taught at the institution for 4 years and anytime I am in Ilorin, I do help them in taking the above mentioned subjects. Not only do I teach these subjects in Winners advanced Academy but also imbibe moral teachings in the students and help the students in creating career path through counselling, advise and help them secure admission into their various Institutions of choice. I see to the admission of over 40 students while I was a tutor at Winners Advanced Academy.

Tutor




May 2014 - Nov 2018

Delighted Leaders Institute

As a part-time tutor at Delighted Leaders Institute, I taught O'level subjects such as English Language, Government, Literature in English and Islamic Studies. I also taught A'level subjects such as POS 101, POS 102, Lit 1, 2, 3, and IRS 1, 2, 3. The Educational Institution prepare both O'level and A'level Students for exams. I taught at the institution for 4 years and anytime I am in Ilorin, I do help them in taking the above mentioned subjects. Not only do I teach these subjects in Delighted Leaders Institute but also imbibe moral teachings in the students and help the students in creating career path through counselling, advise and securing admission into their various Institutions of choice. I see to the admission of over 20 students while I was a tutor at Delighted Leaders Institute.

Tutor




Jun 2014 - Nov 2018

Success Threshold Academy

As a part-time tutor at Success Threshold Academy, I taught O'level subjects such as English Language, Government, Literature in English and Islamic Studies. I also taught A'level subjects such as POS 101, POS 102, Lit 1, 2, 3, and IRS 1, 2, 3. The Educational Institution prepare both O'level and A'level Students for exams. I taught at the institution for 4 years and anytime I am in Ilorin, I do help them in taking the above mentioned subjects. Not only do I teach these subjects in Success Threshold Academy but also imbibe moral teachings in the students and help the students in creating career path through counselling, advise and securing admission into their various Institutions of choice. I see to the admission of over 20 students while I was a tutor at Success Threshold Academy