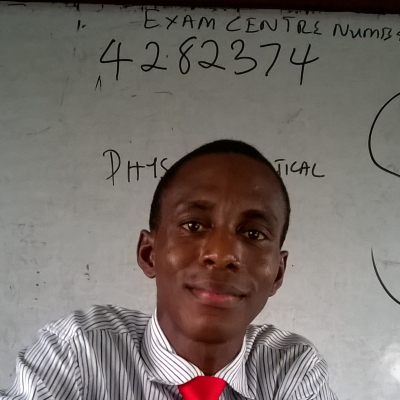 Jones M.
WAEC Physics Tutor
WAEC physics teacher and tutor with 5 years experience of 'never settling for less'.
All my years of teaching, which has been divided between teaching physics and mathematics, has exposed me to the fact that one of the central roles of physics education is the development of students' ability to evaluate proposed hypotheses and models. This ability is important not just for students' understanding of physics but also to prepare students for future learning beyond physics. The knowledge of this has given me an edge as a physics teacher, both in the laboratory and in the classroom, and to understand why practicals take a bulk of the marks in SSCE physics. My experience as a WAEC physics teacher and tutor includes but is not limited to;
Planing, evaluating, and revising curricula, subject content, and subject materials and methods of instruction
Evaluating and grading students' class work, assignments, and projects
Preparing and directing students to enroll for their national and international exams
Involving parents towards students progress
Preparing and delivering lectures to undergraduate and/or graduate students on topics such as mechanics, thermodynamics, optics etc.
Supervising students' laboratory work
Directing students towards completion of their projects and portfolios
My record of success with students has been a driving force for me as I derive pleasure in seeing them excel.
Jones M. also teaches
About
I graduated from the Department of Mechanical Engineering, University of Benin and have had 4 years of experience teaching Physics, Maths and Further Maths. I have prepared students for external exams (UME, SSCE etc.) and school exams.
I also understand the demands of clients with tight schedule, to follow up on their children's/ward's academics (check their notes, ensure their assignments are done and give the parents feedback) beyond the subjects I teach and have been able to play this role for many clients.
My remarkable ability to teach seemingly complicated subjects remains my strenght as the performance of my students can testify to that.
Education
B.ENG Mechanical Engineering




Apr 2008 - Aug 2012

University of Benin
Experience
Physics and Mathematics teacher




Jan 2019 - Present

Inspiration Academy

1. Prepared the SS 3 students for external physics, mathematics and exams. (WASSCE, UME and NECO SSCE) 2. Teach SS 1 and SS 2 Mathematics, physics and further mathematics. 3. Played the role of the physics laboratory attendant. (taught the students physics practical and keep records of all apparatus in the laboratory). 4. Spearheaded the JETS club.

Maths and Basic Technology teacher




Nov 2017 - Aug 2018

Divine Pattern Educational Centre

1. Prepared the JSS 3 students for internal and External Exam (BECE). 2. Taught JSS 1 and JSS 2 mathematics and basic technology. 3. Spearheaded the JETS club.

Physics and Mathematics tutor (Partime) and Assistant Director.




Oct 2016 - Dec 2018

First Class Tutorial centre

1. Part of team organizing the day - to - day running of the tutorial center as some days, we handled 400 - 500 students preparing for SSCE and UME exams. 2. Organized private lessons (Home lessons) for numerous clients. 3. Taught physics, mathematics and sometimes chemistry.

Mathematics teacher




Sep 2013 - Dec 2013

Divine Wisdom Educational Institute

This is where I started my teaching career. I was a Mathematics teacher for SS2.

Industrial trainee




Jun 2011 - Jun 2012

Ministry of Works, Benin

1. Metal machinist: carried out turning, threading, drilling and other cutting operations on the centre lathe machine, coupled with minor welding operation.

Apprentice (Part time)




Oct 2016 - Oct 2017

Sunny Automobile Workshop

Technical assistant in the diagnosis and repair of Toyota, Honda and other Japanese cars.