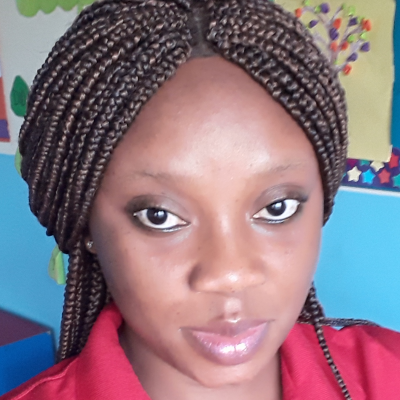 Ugochi P.
Upper Primary English Tutor
Home tutor in Ibeju-Lekki, Lagos
Upper Primary English Tutor
I teach English language 3-4 times a week. I prepare course works, tests and classroom activities which are designed to nurture the pupils' oral and written communication and comprehension skills; critical thinking and problem solving skills. I adopt flexibility in my teaching styles to serve as a measure in meeting the needs of each pupil. I facilitate a warm, adaptive, motivating, practical, competitive and a visually and research-based learning environment to help pupils think outside the norms of a typical learning/classroom situation and strive for academic excellence.
Being a resourceful, hardworking and goal-oriented professional, I have been able to tutor systematically, pupils with great reading challenges which has yielded positive results. I have a good record of simplifying topics while teaching and also encouraging pupils to state definitions of topics in English language in their own words, with the inclusion of keywords of the topic(s). I strive to build the self-esteem of pupils as regards to their academics. I believe that when a pupil's self-esteem is healthy, no academic challenge will be insurmountable.
Ugochi P. also teaches
About
I am a graduate of Obafemi Awolowo University. I have a Bachelor's degree in English Language Education. I am fun to work with, resourceful, goal-oriented, dedicated, passionate, innovative, and also, a professional who takes her job seriously.
Having worked as a classroom and subject teacher, I have a teaching experience of 4 years. I have been privileged to successfully tutor pupils with special needs. Over the years, I have taught pupils in the lower primary, upper primary and secondary classes. I have also prepared pupils and students for The Common Entrance Examinations and The N.E.C.O Examinations respectively. In addition, I worked for The National Examinations Council as an examination marker.
My teaching methodologies and approaches are my key strengths towards facilitating and promoting learning. My love for teaching has also grown beyond the four walls of a school setting, as I am also a teacher in the Teenage and Child's department of the church I attend.
I am excitedly looking forward to working with you!
Education
B.Ed Education




Sep 2006 - Aug 2010

Obafemi Awolowo University
Experience
Class teacher.




Sep 2018 - Sep 2019

Laurels Foundation School

I ensured that the classroom environment was conducive for learning. I instructed and prepared pupils for activities designed to promote social, physical and intellectual growth needed for their development. I adapted teaching methods and instructional materials to meet pupils' varying needs and interests. I established objectives for lessons and projects and I communicated those objectives to the pupils. I prepared and implemented remedial programmes for pupils requiring extra help. I wrote lesson notes and prepared instructional materials for teaching sessions. I marked pupils written notes, individual classwork, group work and assignments daily. I took the attendance record of pupils daiky. I addressed complaints that involved my class pupils. I encouraged pupils to be disciplined and well-behaved in the classroom and in the school. I submitted my lesson notes and lesson plans weekly to the head teacher. I gave parents/guardians updates on the performance of their child/ward when necessary and when requested. Also, I prepared the year 6 pupil of the school for the just concluded Common Entrance Examinations. In addition, I was the extra-curricular activity supervisor of the school. I ensured that registered pupils attended activity group rehearsals. I addressed complaints and welcomed suggestions from group activity tutors. I reported situations or complaints out of my control to the head teacher. I kept parents updated on new information, in relation, to their child/children's activity group(s).

Subject teacher and Class teacher.




Sep 2013 - Jul 2014

Winners College

I taught classes J.S.S.1-2, English language and Home Economics. I prepared lesson notes and plans, classwork, homework for each class lessons. I marked the written notes, classwork, assignments of students. I submitted my lesson plans and notes for weekly evaluation. I set test and examination questions and marked accordingly. I recorded students grade and marks into the report sheet. I also doubled as the Class room teacher for J.S.S.1. I took attendance records. I addressed complaints and received suggestions from students, teachers, head teacher, and parents regarding issues concerning my class.

Subject teacher




Apr 2013 - Jul 2014

Stepping Stone Group of Schools.

I taught classes J.S.S 1 -S.S.S 2, English Language and Literature. I prepared lesson notes and plans, classworks and homeworks for students of each class, and marked accordingly. I set test and examination questions for each class in English language and Literature. I prepared the J.S.S. 3 students for the Junior National Examinations in English Language and Literature. I gave feedback to the students, parents or guardians on the overall performance of the students in class and school activities.

Subject teacher.




Mar 2012 - Mar 2013

Government Girls Day Secondary School, Zurmi, Zamfara State.

I taught English Language from J.S.S. 1 class to J. S.S. 3 class. I wrote lesson notes and plans. I marked classwork and homework given to the students. I set test and examination questions.

A classroom teacher.




Sep 2005 - Aug 2006

Lifegate nursery and primary school

I provided a variety of materials and reosurces for children to explore, manipulate and use, both in learning activities and in imaginative games. I taught them basic skills such as colour, shape, number and letter recognition, personal hygiene, and social skills. I read books to the entire classes or in small groups. I organized and lead activities designed to promote physical, mental, and social development, such as games, arts, crafts, music and storytelling. I observed and evaluated children's performance, behaviour, social development and physical health. I taught pupils proper eating habits and personal hygiene. I served meals and snacks with nutritional guidelines. I arranged indoor and outdoor space to facilitate creative play, motor-skill activities and safety. I also identified children showing signs of emotional, developmental, or health-related problems, and discuss them with my supervisors, parents or guardians. I established and enforced rules for behaviour, and procedures for maintaining order. I prepared materials and classrooms for class activities.