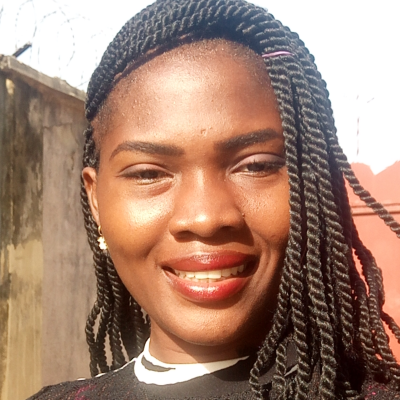 Precious U.
Common Entrance English Tutor
Home tutor in Eti Osa, Lagos
Common Entrance English Tutor
I am a Primary school teacher with specialty in English language and other pre primary subjects. I spend time in making sure pupils grab the idea of a topic before moving on. I have experienced success in helping pupils with short attention span learn more in a short period. I have experienced success in helping pupils pass the common entrance.
I am a creative writer who has specialty in writing poetry and short stories. I have also encouraged pupils to come up with their own poems while I put them through. I also try to make learning as fun and practical as it can be, by carrying out recommended experiments and exercises. I believe the success of a child depends on the amount of attention and encouragement offered to the child. So I take my time in explaining and asking review questions which helps us to stay on the same page. I believe I will make a great impart on any child under my tutelage.
About
I am a graduate of Mass Communication from the University of Lagos.
I have 2 years of productive experience working as a class teacher, majored in English, Mathematics, History and Geography, Mathematics for lower and Upper grade. English Grammar for Secondary school. I live in Lagos where I have worked in various capacity as a Customer service representative
My rare skills of imparting knowledge remains my major strength as my students remain highly motivated and successful after a tutor session with me.
Education
B.Sc Mass Communication




Sep 2008 - Jul 2012

Covenant University
Experience
Class Teacher




Oct 2018 - Present

Minn Cedar private school

Developed appropriate skills and social abilities in students according to their age, aptitude, and ability. Was responsible for planning all of the classroom's lessons to ensure they were in line with the national school curriculum. Implemented a brand-new teaching strategy designed to help bring less well-known history topics to life in a manner which ensured pupils were engaged. Maintaining discipline in a challenging classroom environment. Prepared and assessed students for examinations and motivated them to succeed in their studies. Maintained an up to date knowledge of the curriculum structure and new teaching methods.

English and Literature Teacher




Mar 2013 - Mar 2014

Gloryland Schools

Tutored the students in English language and Literature. Organize quiz competitions to enhance students' ability to study hard and compete. Prepare tests to grade and determine students' performance. Introduced and inaugurated a press club to boost students' interest in writing reading and debating. Designed a membership identity card for the press club.

Programme Supervisor




May 2018 - Aug 2018

Flip Learn kids

Facilitation of eCreative writing sessions at schools. Deployment and monitoring of Fliplearnkids learning management platform. Research, design and development of lesson plans and content delivery for effective learning delivery. Identification and analysis of students needs as relating to schools in my portfolio. Assessment of learners to ensure desired learning outcome is achieved. Development and management of client base in Lagos, and any other location in Nigeria; as well as the identification of major learning establishment for partnerships. Promotion of Fliplearnkids training and conference programme. Review of Weekly Status report. Supervise staff members to ensure optimal management of time and seamless execution of duties.

Customer Service Supervisor




Apr 2016 - May 2018

Tmart Wholesale

Ensure and provide quality service to both internal and external customers. Provide customer service support to customers in a timely manner. Ensure customers' goods are delivered on time and in good condition. Initiate and/or implement corrective actions as required in order to achieve an excellent standard of service and maintain a high level of customer satisfaction. Ensure a seamless customer membership registration and prepare weekly customer service summary reports. Attend to customers' enquiries or requests, receive and place calls and promptly reply emails. Send messages to customers on loyalty programs, promotions, birthday wishes etc. Receive enquiries from and contact the organization's branch offices to resolve customer-related issues. Participate and provide expertise or advice as a Customer Service department team member. Assist or stand in for cashier supervisor as per work schedule or whenever required. Access the company's software to obtain and extract information to provide customer service management with data for inclusion in various scheduled and special reports.

Client relationship Officer/ Administrative Officer




Mar 2014 - Apr 2016

Emirate Energy

Receive clients and make them comfortable. Answer questions concerning the organization, products and services. Prepare letters and dispatch under the supervision of the director. Prepare proposals and bank documents to enable smooth transfer of funds. Documenting and filing of office documents, receipts and transactions carried out. Keep track of supplies in the work area and make preparations for restocking. Improving the overall customer relationship, delivering reliable administrative support and customer service. Acknowledging customers promptly and treating them in a courteous manner. Assist in the analysis of customer trends to enhance sales and service management process and pre-requirements.