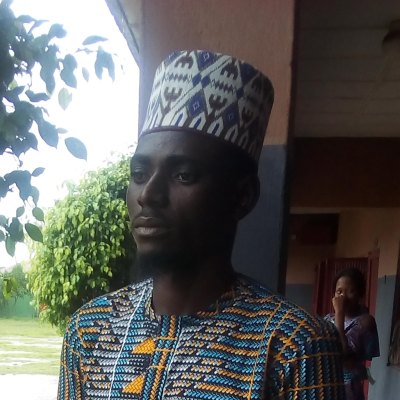 Zakari U.
Senior Secondary School English Tutor
Home tutor in Karu, Abuja
About
I am a graduate of Languages and Linguistics from Nasarawa State University, Keffi.
I hail from Kogi State, precisely, Lokoja, the state capital and I presently live at Abuja. I possess three years experience in teaching and successful tutorship for I have been able to preppare students who came out with outstanding results in WAEC and NECO, most of which are in the unversity studying, throughout my years of teaching.
With exception to the above, I have been able, by bringing out the intrinsic value in the students I have taught, to impart an established knowledge in my learners.
I possess the quality of teaching perfectly, subjects such as English, Literature, I R S and Hausa Language...
Education
BA Linguistics and Languages




Jan 2011 - Jun 2015

NASSARAWA STATE UNIVERSITY KEFFI
Experience
The teacher of English, literature and I R S...




Sep 2017 - Aug 2019

Fine Trust Academy

As an English, literature and I R S teacher, in Fine Trust Academy, I was able to teach and prepare the students for both their internal and external exams of which they all did well. Talking about the external exams, I prepared the students for their certificate classes, during my reign in the school, in all the above subjects and they came out with outstanding results. Most of the students I had prepared are presently studying their various courses of interest in the university and with respect to the information reaching me about their performance they are doing quite very well in their studies. In teaching my students, I made sure I brought out the intrinsic value in them by having it as a priority to inculcate in them an established knowledge on each of the topics of all the subjects I taught so as for them to be, at all times, ready to face future challenges in academics.

English teacher




Jun 2016 - Apr 2017

Uyi Group of Shool, Eggo, Benin city

As a teacher in the schooI, I tought the students based on the scheme of conventional curriculum. While teaching in Uyi Group of SchooI, I impart in the students an efficient knowkedge of the field I tought, and maintain a good relationship with the staff and management to an extent that I was given a certificate of merit at my departure from the establishment...

Class Teacher




Sep 2017 - Aug 2019

Fine Trust Academy

As a class teacher in Fine Trust Academy, I was in charge of the class register of which I used in the calling of students names to ascertain their attendance on daily bases. The class register entails a column for parents/guardians phone contact which I employed in communicating with parents concerning their wards Academic performance and physical and health condition when necessary... Adding to the above, as class teacher, I carryout the computation and compilation of students grade, on each subject, in the class score sheet of which I do issue the output as termly results to parents/guardians to note their wards performance