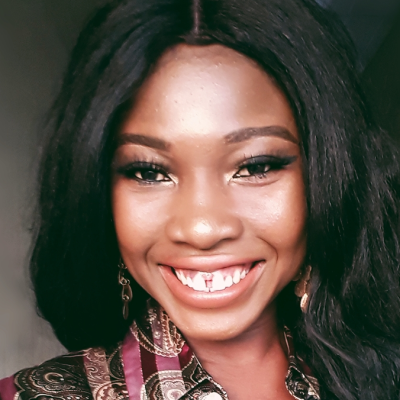 Blessing E.
English Language Tutor
About
I am a passionate and creative person who is committed to the skills and knowledge of my students and can easily adapt my approach for different ages.
I have productive experience working as a private tutor in the areas of literacy, spelling, grammar, comprehension, essay and creative writing, government, civic education, social studies and religion.
I believe that my greatest teaching strength is my ability to effectively deal with different age groups. My aim in teaching is to help my students facilitate their ability to find solutions, get results and understand the various subjects in a better way. I believe learning is important for students, not only to pass their exams and gain qualifications, but also for personal development and career choices/adaptability.
I try to be supportive and constructive when teaching, offering my students well prepared and structured sessions that are engaging, fun and productive. I work meticulously to ensure that the required skills are taught in an effective and memorable way, which will, in turn, make the student better at the subjects that are being taught.
Education
BA Arts Education




Sep 2011 - Sep 2015

University of Ilorin
Experience
Enthusiastic Tutor




Jul 2017 - Present

Prepclass Home Tutors

*Assists students in acquiring better understanding of targeted/weak subject areas; *Prepares students for tests and examinations; *Assists students with homework and projects.

Class Teacher




Sep 2017 - Jan 2018

Brim Mount School

*Prepared lesson plans and notes according to curriculum guidelines and objectives; *Taught a full range subject areas; *Maintained productive working habits and discipline in the classroom; *Set and conducted tests and examinations; *Assessed and evaluated students' academic performances; *Supervised students throughout the day, both in the classroom and outside during breaks; *Discussed students' progress with parents, guardians, and administrators as necessary; *Managed the arts and crafts club.

Class Teacher




Jan 2017 - Jul 2017

Lightworld Schools

*Prepared lesson plans according to curriculum requirements; *Taught a full range of subject areas; *Managed the blue house team; *Set tests and examinations; *Assessed and evaluated learners' academic progress and abilities; *Organized, attended and supervised school activities such as excursions, charities and sporting events.

Facilitator /Class Teacher/Youth Corp Member




Dec 2015 - Oct 2016

St. Theresa's Academy, Odomomoh (NYSC)

Same as above

Assistant Presiding Officer 1




Dec 2016 - Nov 2016

Independent National Electoral Commission (INEC)

*Assisted with the collection of materials from the Senior Presiding Officer (SPO); *Verified and authenticated voters using the card reader; *Assisted in disagregating statistics such as gender, etc; *Ensured voters used their appropriate thumbprinted finger on the ballot.

Student Teacher




Sep 2014 - Oct 2014

Cherubim and Seraphim College, Ilorin (Teaching Practice)

*Assisted the supervising teacher in setting tests and examinations; *Taught civic education to SS 2 students *Prepared lesson plan according to curriculum guidelines and requirements; *Assisted the co-operating teacher in evaluating students' academic performances.
6 Reviews

Mrs Yewande

Dec 2017

Mr Bamigboye

Jan 2018

Mr Mike

Feb 2018

Mrs Gbemi

May 2018

Mrs Spencer

Aug 2018

Mrs. Thomas

Feb 2019

Blessing is an excellent teacher, she is very passionate about her job as a teacher which is very rare at times like this. I am glad to have had her to teacher my son.